Table of Contents
Quebec Diaspora – Emigration from Quebec to the United States
Alexis and Marie Bibeau (Emily's 2 times great grandparents)
Minnesota, between 1847 and 1898
Hypolite (Paul) and Veronique Bibeau (Emily's great uncle and aunt)
Louis and Charlotte Bibeau (Emily's great grandparents)
Louis (Petit Louis) and Sophie Bibeau (Emily's grandparents)
Peter and Rose Bebeau (Emily's parents)
Emily (Bebeau) and Werner Dahlheimer
Quebec

Diaspora
According to Wikipedia:
The Quebec diaspora consists of hundreds of thousands of people who left the Province of Quebec in Canada for the United States, Ontario and the Canadian prairies between 1840 and through the Great Depression of the 1930s. Brought on by overpopulation in rural areas that could not sustain under the seigneurial system of land tenure and industrialization in New England, approximately 900,000 French Canadian residents left for the United States seeking work. About half of those are reported to have eventually returned to Quebec.
Often those who stayed organized themselves in communities sometimes known as Little Canada. A great proportion of Americans with French ancestry trace it through Quebec.
Certain early American centers of textile manufacturing and other industries attracted significant French-Canadian populations, like Fall River, Holyoke, and Lowell in Massachusetts; Woonsocket in Rhode Island; and the bordering counties in Vermont, New Hampshire, and Maine. There are also sizeable populations of French-Canadian descent in Michigan and Minnesota — who began migrating there when the region was still part of New France.
Source:  http://en.wikipedia.org/wiki/Quebec_emigration
Alex

is and Marie Bibeau (Emily's 2 times great grandparents)
Alexis Bibeau was born in town of Sorel, in the county of Richelieu, in the province of Quebec, Canada, on 16 June 1758.  He married Marie Anne Desrosiers (Desrocher or Dutremble) on 7 Feb 1780 at the church of St. Pierre de Sorel.  They had 12 children, all of whom were baptised at the church of St. Pierre de Sorel. 
According to Al Dahlquist (Little Canada, MN), of these 12 children, five have descendants in Minnesota, as follow: 
<![if !supportLists]>· <![endif]>The first child, Marguerite Marianne, married Louis Vandal.  Their son Clement Vandal settled in Mendota, Minnesota.
<![if !supportLists]>· <![endif]>The fourth child, Pierre, married and had a son Dennis who settled in Rice County, Minnesota.
<![if !supportLists]>· <![endif]>The tenth child, Hypolite (Paul), married Veronique Hus.  They settled in Little Canada, Minnesota.
<![if !supportLists]>· <![endif]>The eleventh child, Marie Josette, married Prisque Felix Peloquin.  Their son and a daughter settled in Little Canada, Minnesota.
<![if !supportLists]>· <![endif]>The twelfth and last child, Louis (Emily's great grandfather), first married Charlotte L'Archeveque /Laroche.  After her death, he married Lucie Rabouin.  They settled in Little Canada, Minnesota. 
Their descendants ultimately moved to other areas of Minnesota, Wisconsin and elsewhere in the U.S.
Minnesota

, between 1847 and 1898
Hypolite (Paul) and Veronique Bibeau (Emily's great uncle and aunt)
Hypolite (Paul) Bibeau, was the tenth child of Alexis and Marie Bibeau.  He was born on 3 September 1796 in Sorel, in the county of Richelieu, in the province of Quebec, Canada.
His name Hypolite probably became Americanized to Polite, then to Paul.  From hereafter, we will refer to him as Paul.
He married Veronique Millet in Sorel on 21 September 1824.  They had 16 children, most of whom were born in Sorel, Canada; however six died at birth or quite young. 
Paul and his family decided to immigrate to Minnesota.  His younger brother, Louis, and his family, would soon follow.  Both were farmers.
Paul and his family arrived in Minnesota sometime between August 1847 and July 1848 and settled in what was then called Little Canada (now modern day Vadnais Heights), in Ramsey County. 
At this time, the modern states of Iowa, Wisconsin and Minnesota were classified as territories.  Each was admitted into the Union as a state as follows:  Iowa in 1846, Wisconsin in 1848, and Minnesota in 1858.  The following map shows these three territories between 1832 and 1858, the time when Paul and Louis immigrated to Minnesota.
<![if !vml]>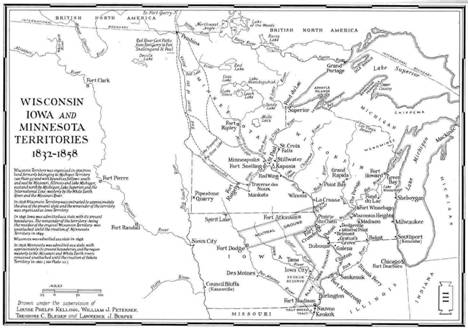 <![endif]>
Source:  Kellogg, Louise. Peterson, William. Blegen, Theodore.  Burpee, Lawrence. (2005). Chapter.  Rootsweb USGenWeb Archives Minnesota Digital Map Library Wisconsin, Iowa and Minnesota Territories 1832-1858
Paul Bibeau settled in Little Canada, Ramsey County (in what is now known as Vadnais Heights).  Ramsey County originally covered a much broader area than it does today, as show on the map below.
<![if !vml]>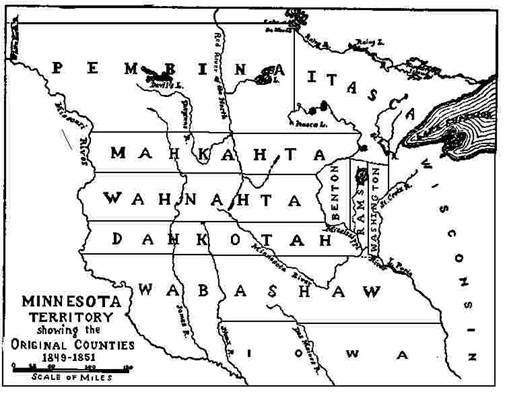 <![endif]>
Source:  Rootsweb. (2005). MNGenWeb - Minnesota - Counties - 1849-1851 Map. Rootsweb website, retrieved from http://www.rootsweb.com/~mngenweb/mnterr.htm
Little Canada and modern day Vadnais Heights are located in Ramsey County, north of the city of St. Paul, Minnesota:
<![if !vml]>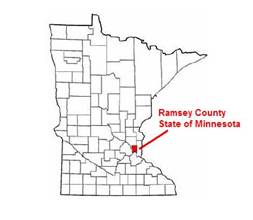 <![endif]><![if !vml]>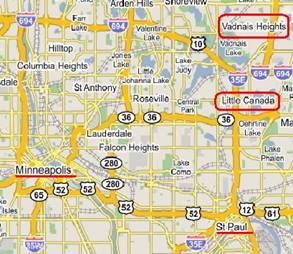 <![endif]>
       From: http://minnesota.state-capitals.com                                      From:  http://maps.google.com/ 
According to Al Dahlquist (Little Canada, MN, 2005):
Paul Bibeau and Veronique Hus/Millet pulled up stakes and left the security of their home in the province of Quebec and ventured to the wilderness of Minnesota. At the time there were few people in Minnesota, the population being about 5,000 in 1850, and most of those had arrived from 1848 through the time of the census in mid 1850. The good land (it had to border water for farming) in province of Quebec was all used up, having been divided over and over again as it passed from one generation to the next, and remember families were very large.
According to his Declaration of Intention which was filed 3 July 1848, Paul Bibeau (Bebaux) arrived in the U.S. on 29 August 1847 at Detroit, Michigan.  His declaration date was 29 November 1847 before H. Jackson, j.p., Wisconsin Territory. By this declaration we know that Paul and his family arrived in Minnesota sometime between 29 August 1847 and 3 July 1848.
Paul and his family first appear in the 1850 Minnesota Federal Census in Little Canada Township, Ramsey County, under the last name of "Bibot":
<![if !vml]>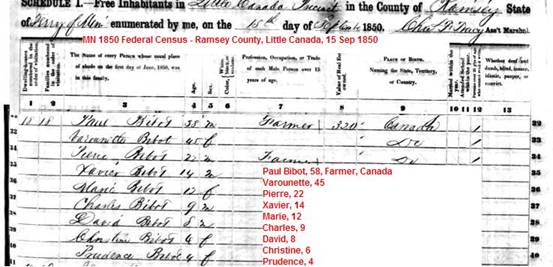 <![endif]>
Edgar Belland (1976, History and Biographies. A History of Vadnais Heights. Vadnais Heights, MN: The Commission, 9-12), provides the following background on the early immigrants of this area: 
The history of white men in the [modern day] Vadnais Heights area dates from the 1840's.  What a decade that was!  French Canadians migrated from province of Quebec to the little river town called St. Paul.  (That city's original name was Pig's Eye, remember?  It was named for a pioneer moonshiner-bootlegger.)  The enthusiastic, optimistic newcomers came seeking rich land to farm. 
…For reasons unknown today, the French Canadians pushed northward out of St. Paul and settled the area east of present day Rice Street which became Little Canada.  Soon, all the farmland in that district was taken, but still the Frenchmen poured into the territory from Canada.  The old wagon train called Centerville Road was a busy thoroughfare as the pioneers surged north to areas now known as Vadnais Heights, Centerville, Hugo and Forest Lake.
[One of ] the first settler[s] of record in [modern day] Vadnais Heights was [Paul] Bibeau, who acquired 160 acres on Centerville Road near present day Edgerton Street…
Jean Vadnais [had previously] settled with his family on land just north of the Bibeau's farm.  [Jean Vadnais']…property included frontage on the southeast shore of the lake which was to bear his name.  Jean Garceau, who with his family had arrived in St. Paul with the Vadnais family, settled just north of the Vadnais farm.  Garceau's property also bordered the lake and extended east to the section line in line with Arcade Street if it were extended.
[Paul] Bibeau's letters home to Canada extolled the virtues of the area, which attracted Bibeau's brother, Louis, and his family as settlers [in 1847-1848].
The "Ramsey County History" provides the following:
(Source:  1999, Little Canada—Heritage from the French Canadians. Ramsey County History-More about the county and its people, vol 34. no.1, p.28-38)
Among the first to explore the region that is now Minnesota, and the first permanent settlers of Ramsey County, were the French from Canada.  Even older than the county is the 155-year old [as of 1999] suburb of Little Canada, seven miles north of St. Paul, whose tree-lined streets have rows of mailboxes bearing the proud French Canadian names of Gervais, Nadeau, Ducharme, Donais, Bibeau, Auge, Garceau, Tereau, Melancon, and others.  These are the descendants of the French Canadian pioneers who in great part were responsible for settling the earliest communities in Minnesota:  St. Paul, St. Anthony and Little Canada, which according to the 1849 [1850?] census listed 322 residents to St. Anthony's 248.
Benjamin Gervais…was the first white man to claim land in Little Canada…Gervais seems to have been a leader, personable and well-liked.  After he left St. Paul in 1844 to take up land and build a cabin at Lake Gervais, a number of his fellow French Canadians followed him to found Little Canada in northern Ramsey County.
…The tiny settlement quickly became a magnet for other French Canadians, as they apparently were a tough, stubborn lot.
… In 1850, the French settlers established a school with Eliza la Barre as its first teacher.
… In 1846, Pierre Gervais took up a claim next to his brother.  The following year [1847-48], Louis and Paul Bibeau […and others] all arrived from Canada to live near the Gervais brothers.
…For seven years, between 1844 and 1851, the Little Canada settlers had to travel on horseback, wagon or on foot the seven miles to St. Paul for Mass, baptisms, and weddings at the old St. Paul Cathedral.  On October 7, 1851, they heard their first Mass in their own newly organized church [parish], but it was a church without a building [and several families soon donated land.]…The first building was a log structure erected at a cost of $500.  Large logs were hauled by sleighs over the snow, small logs were dragged by the men and boys of the parish.  The parishioners were the laborers who by this time were skilled in the art of log construction…On October 7, 1852, exactly a year after the organization of the parish, the congregation heard its first Mass there. 
…When the Catholic Church of St. John the Evangelist was built in 1852 pew rent was charged to help fill the coffers.
… In 1880 work began on a brick structure that would replace the little log church on the same site.  Sermons were in French until around 1922.  In 1956 the brick church was in turn replaced by the new, Roman style church. … Today, the Church of St. John the Evangelists is the fourth oldest Catholic church in Minnesota.
…In May 1858, the Little Canada area was formed into the township of New Canada…the community near the church was for a time called St. John's City. Although these names show up on old maps and records, the residents always have referred to the area either as Little Canada or as "Petit Canada".
Edgar Belland (1976) adds this to the Bibeau history:
The early settlers were very hardy people and all lovers of horses and good horsemen.  They worked very hard at clearing the land so as to be able to farm.  [Paul's] son, Charles, worked with a team of horses at one time grading Phalen Park, St. Paul.  In testing horse strength, it seemed that Charles' team always out-pulled all the others. 
On July 10, 1890, a tornado hit the area and it was Charles and his team of horses that came to the rescue of his brother-in-law Charles Moses Melancon.  Eight members of the Melancon family were hospitalized and all their buildings were destroyed.
Per Heibert (1989), Paul died on the homestead on Centerville Road.
Al Dahlquist (Little Canada, Minnesota, 2005), says: "To the best of my knowledge all of the male Bibeau descendants of Paul and Veronique use the spelling of Bibeau."
Louis and Charlotte Bibeau (Emily's great grandparents)
Louis Bibeau was Paul Bibeau's younger brother by five years, and Emily's great-grandfather.  He was baptised at the church of St. Ours-sur-Richelieu, in the county of Richelieu, in the province of Quebec, Canada, on 9 Sep 1801. 
Louis was married twice. 
<![if !supportLists]>· <![endif]>His first marriage was to Charlotte L'Archeveque.  The first and only living child of this first marriage was Louis Bibeau (Emily's grandfather).  As he had the same name as his father, he was sometimes called "Petit Louis" or Little Louis.  Charlotte became pregnant with twins, and unfortunately, she and the twins died during the child birth. 
<![if !supportLists]>· <![endif]>Nearly six years later Louis married Lucie Rabouin and had many children from this second marriage. 
According to Al Dahlquist (Little Canada, MN, 2005):
Louis Bibeau, brother of Paul (Hypolite) arrived in the U.S. on 9 July 1848 according to his naturalization papers which he filed on 17 August 1850 in Ramsey County, Minnesota.  He no doubt arrived in Minnesota around that date.  There is no mention of his point of entry to the U.S.
Gareth Hiebert says: 
Source: Hiebert, Gareth. (1989). The Bibeau Families. Little Canada – A Voyageur's Vision. Stillwater, MN: Croixside Press, 2, 248-250. 
[After Paul settled in Little Canada, he] wrote to his brother Louis, and offered to sell him half his [160] acreage if he, Louis, wanted to leave Canada and come to Minnesota.  …Louis accepted the offer his brother, Paul had made and ... Louis and his large family came to Minnesota.  There were no buildings on Louis' half of the farm, so he moved in with his brother Paul and his family. 
The two families found it difficult to get along [perhaps because there were two families with 15 or so children all living together!], so Louis obtained an old barn in Pig's Eye, which he managed to fix up as a place to live, and moved his family there.  They lived there about a year while Louis built a house for them on the farm [on Centerville Road in modern day Vadnais Heights]. 
…Louis was elected Overseer of the Poor for White Bear Township in 1858, and Township Supervisor in 1860. 
Louis and his family do not appear in the 1850 census for Minnesota, however they do appear in the 1860 census in White Bear Lake, Ramsey County, under the name DeBane: 
<![if !vml]>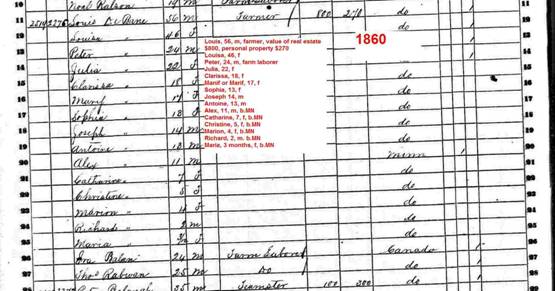 <![endif]>
Photo of Louis Bibeau around 1875, approximately age 74:  
<![if !vml]>
<![endif]>
Source:  2005, Minnesota Historical Society. Copyright permission19442.
Per Heibert (1989), Louis' wife, Lucie, died at the homestead farm in 1878. 
According to Edgar Belland (1976), for several years before he died, Louis lived alternately with his sons, Joseph and Alexis, after having divided his 80 acre farm between them.  Also, in his later years, Louis "owned a pony and buggy which he used to visit his children and many friends.  When lightning hit the barn one day where the pony and buggy were kept, they were destroyed.  This was a great loss for Louis because he was fond of horses and a very good horseman."
Per Heibert (1989), Louis died at the age of 90 at his homestead farm on 20 February 1891. 
Louis (Petit Louis) and Sophie Bibeau (Emily's grandparents)
Louis Bibeau was born 26 April 1830 in Sorel, in the county of Richelieu, in the province of Quebec, Canada, on 26 Apr 1830.  He was baptized at the church of St. Pierre de Sorel. 
As he had the same name as his father, he was sometimes called "Petit" Louis or Little Louis.  To avoid confusion with his father, this document will refer to him also, as "Petit" Louis.
In about 1850, "Petit" Louis immigrated to Minnesota with his father, Louis, his stepmother, Lucie Bibeau, and the rest of his brothers and sisters. 
In 1855, at the age of 25, "Petit" Louis married Sophie Baudette at St John's, Little Canada. 
One family history says "Louis was known as one of the most physically strong men in St. Paul.  He weighed 220 pounds and could lift a 400 pound barrel of salt into a rail car by himself.  (Source: Fitzpatrick, Mark. (year unknown). News article - Louis Bibeau the Great. Bibeau Family History File".  Little Canada Historical Society, Little Canada, Minnesota.)
The first child of "Petit" Louis and Sophie, Marie Sophie, was born in 1856, in Little Canada. Their second child, Louis, was born in 1858, but place of birth is unknown.  Their third child was born in Dayton in 1860.  Based on this information, we can presume that "Petit" Louis and his family moved sometime between 1856 and 1860 from Little Canada to Osseo and Dayton, near French Lake.  His name, along with his wife, Sophia, and his first three children, first appear in the 1860 census of Dayton Township. 
<![if !vml]>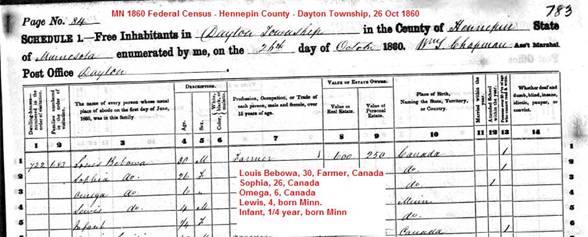 <![endif]>
"Petit" Louis and his family also appear in the 1870, 1880, 1900 and 1910 census in Minnesota.
They settled (i.e., homesteaded land) on the east side of French Lake.
Sophie died on 2 Feb1908 in French Lake.  "Petit" Louis died on 7 Jan 1914 in Dayton from of Cystitis, with complications from an enlarged prostrate (illness for six months prior to death). 
According to Al Dahlquist (Little Canada, Minnesota, 2005): "The male Bibeau descendants of Louis use the following spellings: Bibeau, Bibo, Bebeau, and Bebo."
Peter and Rose Bebeau (Emily's parents)
Peter (Pierre) Bebeau (Emily's father) was born on 5 Apr 1866 in Dayton, Hennepin County, Minnesota and baptized on 20 May 1866 in St John Baptist in Dayton.
It is interesting to note that Peter's family name has now changed from Bibeau to Bebeau.  Only one son, Adelore, continued using Bibeau, which he insisted was the correct original spelling.  It was uncertain when these changes actually occurred.
Peter married twice:
<![if !vml]>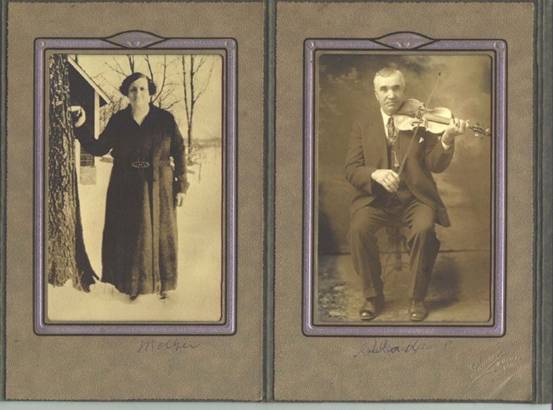 <![endif]>
Rose and Peter Bebeau
<![if !vml]>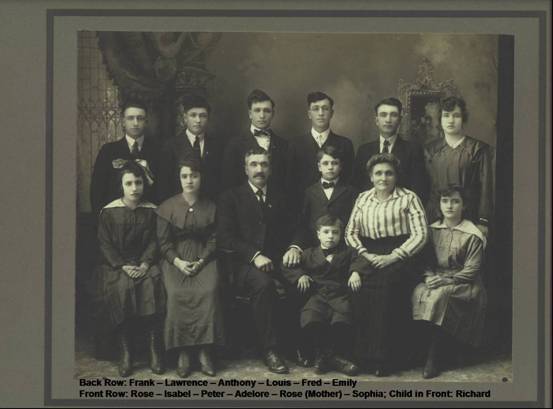 <![endif]>
Family of Peter and Rose Bebeau, 1915-1920
<![if !vml]>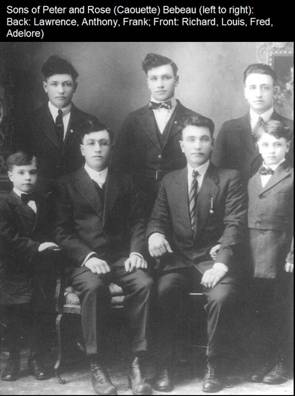 <![endif]>
Sons of Peter and Rose Bebeau, 1915-1920
Peter and his younger brother, Paul, both settled on the southeast shore of French Lake.  Both probably inherited this land from their father, "Petit" Louis, after his death in 1914.  Peter and Rose Bebeau lived on a 90 acre farm. 
Peter and his family appear first as a family under the name "Bibeau" in the 1900 Census in Dayton, Hennepin County:
<![if !vml]>

<![endif]>
They also appear in the census of 1910 and 1920 in Dayton under the name "Bebeau".
According to family histories, in 1922 Peter decided to purchase land near Blake Lake, near Balsam Lake, Wisconsin in Polk County, as land was reasonable and there were lots of maple trees for syrup making.  He also farmed the land and had dairy cows.
When Peter and Rose moved to Wisconsin, his four youngest unmarried children (Rose, Sophie, Adelore and Richard) went with them, while the other children, who were already married, remained in Minnesota.  Rose married in 1928 in Wisconsin, so by time of the 1930 census in Georgetown Township, Polk County, Wisconsin, Peter's household consisted of himself age 65, his wife Rose age 63, and their three youngest children, Sophie age 25, Adelore age 23, and Richard age 19.  They appear in the 1930 census with the name "Bibeau":
<![if !vml]>

<![endif]>
According to family histories, the land near Blake Lake, Wisconsin was farmed by Peter and his family.  They made maple syrup which was brought back to Minnesota and sold.  In later years, Peter's son, Adelore, rented and farmed his father's farm in Wisconsin, while Peter lived in a small cabin nearby.  Eventually Adelore wanted to buy the farm, but an agreement on the price could not be reached, so he purchased another farm elsewhere.  After Peter's first wife, Rose, died, Peter's farm was sold and the maple trees cut down and the sold for lumber.  Peter then moved back to northeast Minneapolis where he married Josephine Moreault and lived in a small apartment. 
Meanwhile, after Peter and some of the family moved to Wisconsin in 1922, Peter's third son, Anthony, rented Peter's land near French Lake, Minnesota.  As time passed, Peter and Anthony could not reach agreement on the land rental/purchase price, so Anthony decided to purchase another farm nearby, a few miles to the north on Diamond Lake.  When Peter died in 1952, the land near French Lake was sold to a "Joyer". 
Peter's other sons, Frank and Fred, lived a half a mile to the north of the original homestead on French Lake.  A "Paul Bebeau" lived across the road from Freddie.  This Paul was not a son but another relative.
Minnesota

, from 1898 onward
Emily (Bebeau) and Werner Dahlheimer
Emily Bebeau was born on her parents' farm on 4 Sep 1898 in Osseo, Hennepin, Minnesota, and baptized on 18 Sep 1898 at St Vincent de Paul church. 
<![if !vml]>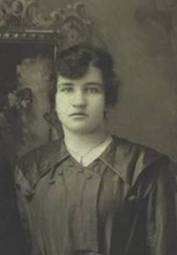 <![endif]>
              Emily Bebeau
At the age of six, Emily started school in Maple Grove. Although she spoke French at home, she and her brothers and sisters knew enough English that they had no problems learning their lessons. Their parents selected the Maple Grove schoolhouse over the French Lake schoolhouse. This was because the Maple Grove school had two rooms, instead of just one, which generally meant that the quality of the education would be better. To get to the school in Maple Grove, Emily had to walk two miles from her parents' farm near French Lake. In the winter, her father Peter would drive his children to school with a team of two horses and the bobsled. 
The two-room schoolhouse was used to teach grades 1-8.  The first four grades were taught in a small room. At the end of fourth grade, students would "graduate" into the larger room for grades 5-8. Emily attended all eight grades at this school. During the wintertime, Emily and her classmates would oftentimes spend their one-hour recess ice-skating on the creek which ran through town.
While attending school Emily took piano lessons. This proved to be useful in years to come as her father, Peter, played the violin at dances. Emily would accompany him on the piano playing square dance music while her father played the violin and called out the steps.
After Emily graduated from the 8th grade she lived at home and helped her parents on the farm. She and her brother Lawrence were very close. During harvest time they would cut cross-country about a mile to what was then Frank Bower's farm to pick potatoes. At that time, potatoes were farmed quite heavily and people would come from Minneapolis to buy them. Emily and Lawrence would also weed onions for $0.25 per hour, which were good wages in those times. This money was their own to spend and when they had enough quarters they would go to the store in Maple Grove and buy what they pleased.
The Bebeau family lived simply during these times. One of the common activities involved butchering pigs for meat. Once butchered, they would hang the pigs in the granary to cool off. After about a week, they'd salt and can the meat; thus preserving it for a longer period of time.
Christmas was celebrated much differently by Emily's family than what we have become accustomed to. They had no Christmas tree and did not exchange gifts, although "Santa Claus" occasionally brought dolls for the girls.
In addition to picking potatoes and weeding onions, Emily also helped milk her family's cows. When she first started she was responsible for milking one cow by hand. By the time she was old enough to marry, she was responsible for four.
In early 1916, Emily went to a "house dance", a popular social event at the time.
Here, everyone would square dance to music from any combination of violins, fiddles, trombones, coronets and a piano. It was said that if you couldn't play the fiddle you weren't a Frenchman. It was at a dance such as this that Emily Bebeau and Werner Dahlheimer met.
One and one-half years later, Emily and Werner were married on the morning of November 28, 1917, at St. Vincent de Paul Church in Osseo.
<![if !vml]>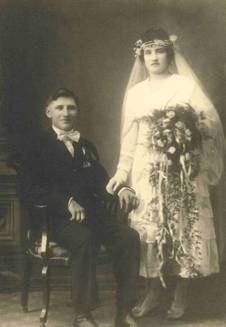 <![endif]>
At that time, anyone who wanted could attend the wedding and the celebrations as no formal invitations were sent out. Werner and Emily were married in the old church in Osseo; later that day they had a wedding dance in a large room above a store in Rogers.
Click here for more information about Emily and Werner, and their family.