History in

Minnesota

,

U.S.A

.
Dahlheimers
of
Minnesota
, 1855 – present
Caspar
Dahlheimer
Click here for photos of Caspar Dahlheimer's family.
In 1875, although Caspar's youngest son, Philipp, returned to Ohio with his wife and family, Caspar stayed in Minnesota with his son Valentine's widow, Elisabeth and family. At this time Caspar was 77 years old.
The 1875 Population Census lists both Valentine and Henry's families. Caspar is listed as a member of Elizabeth's household.
<![if !vml]>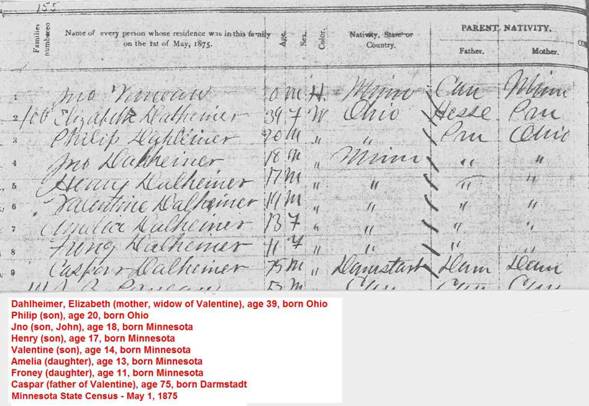 <![endif]>
<![if !vml]>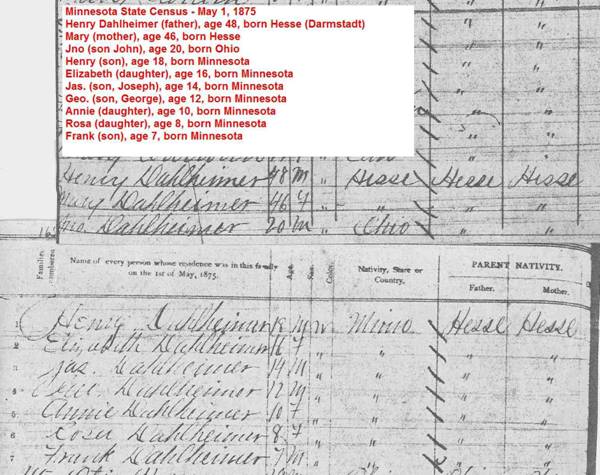 <![endif]>
Four years later, on February 18, 1879, Caspar died at his daughter, Margaret Greeniger's home in Dayton, Minnesota. He was buried in the old St. John the Baptist Parish cemetery (located at the corner of Lawndale Lane North and 149th Street North) in Dayton, Minnesota, near his son, Valentine. In later years, Caspar's body was moved to the new cemetery in Dayton and a new gravestone marker put in place. Leonard Dahlheimer obtained Caspar's original marker.
<![if !vml]>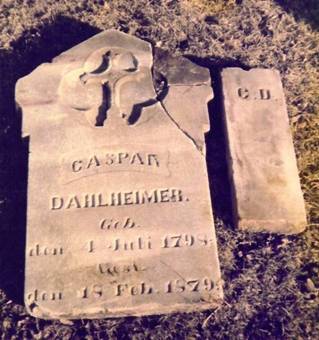 <![endif]>