History in

Minnesota

,

U.S.A

.
Dahlheimers
of
Minnesota
, 1855 – present
Henry and Maria Dahlheimer
Click here for photos of Henry Dahlheimer's Family.
Click on following for photos of Henry's children, their spouses and families:
John and Walburga (Temple) Dahlheimer
Elizabeth (Dahlheimer) and John Stenglein
Joseph and Mary (Lehn) Dahlheimer
George and Geraldine "Tina" (Wahl) Dahlheimer
Anna (Dahlheimer) and John Weber
Rose (Dahlheimer) and Andrew J. Dehn
Henry Dahlheimer was five feet, six and one-half inches tall, had a dark complexion, dark hair and hazel-colored eyes.
In l860, Henry and his wife, Mary, purchased land in Dayton Township and built a log cabin on a high hill overlooking Diamond Lake. This lake was the largest body of water in Dayton Township and was named Diamond due to the purity of its water. [17]
[17] History of Hennepin County, "Dayton", pages 302, 303; 305.
In 1872, Henry was named treasurer of Dayton and served in this position for a number of years. At this time, Dayton Township had a population of 698. [17]
[17] History of Hennepin County, "Dayton", pages 302, 303; 305.
Following is a copy of Henry's endorsement into the office of Treasurer.  Henry was required to pay $500 which was placed in escrow to ensure he performed his duties properly: <![if !vml]>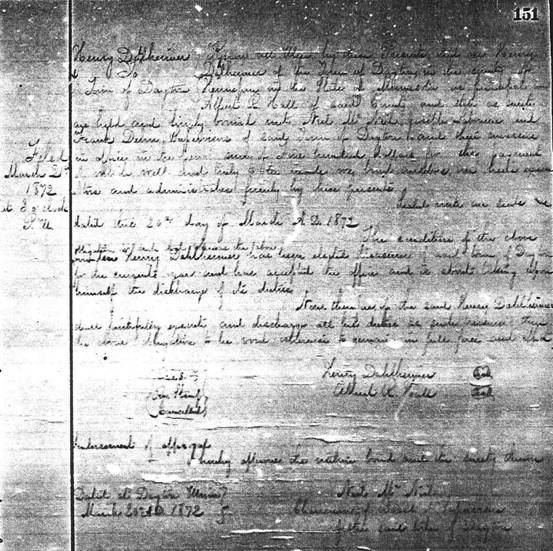 <![endif]>
Following is a translation of the above document:
Henry Dalheirner
        To
Town of Dayton
Know all men by these Present that we, Henry Dalheimer of the town of Dayton in the county of Hennepin and State of Minnesota, as principal, and Albert R. Kalb of the same County and State as surely are held and firmly bound unto Ned McNeil, Joseph Lebrevre and Frank Dehn, supervisors of said town of Dayton and their successors in Office, in the found sum of Five Hundred Dollars for the payment of which will and truly to be made we bind ourselves, our heirs, executors and administrators firmly by these Presents.
            Sealed with our seals and dated this 20th day of March A.D. 1872.
The conditions of the above obligations is such that whereas the above bounden Henry Dahlheimer has been elected Treasurer of the said town of Dayton for the current year and has accepted the office and is about taking upon himself the discharge of its duties.
Now, therefore, if the said Henry Dahlheimer shall faithfully execute and discharge all of his duties as such treasurer, then the above obligation to be void otherwise remain in full force and effect.
                                                Henry Dahlheimer (seal)
                                                Albert R. Kalb (seal)
Endorsement of Office
I hereby approve the within bond and surety thereon.
Dated at Dayton, Minn.
March 20 A.D. 1872               N. McNeil
                                                Chairman of the Board of Supervisors of Dayton
Filed March 21 A.D. 1872
Sometime between 1872 and 1883, Henry donated some of his land to Dayton in order to construct a city hall.  The historic city hall is currently located on the corner of S. Diamond Lake Road and Zanzibar Avenue in Dayton.  The building was moved to this site in 1883 and was first used for the wedding dance of Henry's son, Joseph and Mary Lehn.  In May 2005, a sign dedicated to the Dahlheimers of Minnesota was
installed on this site.
According to Leonard Dahlheimer, Mary was a strong, hard-working woman. Born in Germany, she came to America with her parents when she was 2 years old. They settled in Ohio and in 1853 she married Henry Dahlheimer. [23]
[23] Dahlheimer, Maria (Reche), Obituary, Anoka County Historical Society.
Mary did the housework for Henry and their eight children. At , every morning, she would rise and begin her day's work and later would cross the fie1ds to go to Mass in the first church in Dayton on Paul Godine's farm. During the Civil War years, she and Henry experienced difficult times and survived by eating squirrels, rabbits and garden vegetables.
In 1897, Henry sold the original homestead I to his son, Frank. He and Mary then bought land in Anoka (lot 12 and the west half of lot 11 in Block 19) and moved into town.  
In 1903, Henry and Mary celebrated their Golden Wedding Anniversary along with their eight children and spouses, and approximately 40 grandchildren
In 1907, a family portrait was taken. This photo included all of .Henry and Mary's children except their two eldest sons, John who had died in 1904 and Adam. 
Henry was a trusted businessman in Dayton as evidenced by his term in office as treasurer. He was also a man who believed in saving money. Leonard Dahlheimer told of a time when Henry came to visit his son Joseph, Joseph's wife Mary and their children, one of whom was Leonard. Henry brought Leonard a small cast-iron safe and told Leonard:
If you don't save any pennies when you're young then you'll always be poor... by the time you know this safe's combination you'll know how to save money.
On July 16, 1907, at the age of 78, Mary died after having been ill for over a year with stomach trouble. Her funeral service was held at St. Stephen's Church in Anoka, where she was a member. She was buried in St. John the Baptist's church cemetery in Dayton. [23]
[23] Dahlheimer, Maria (Reche), Obituary, Anoka County Historical Society.
Five years later, on August 1, 1912, Henry died of "Brights Disease", a disease of the liver, He was also buried in St. John the Baptist's church cemetery in Dayton.