Minnesota

Land
Acquisitions, 1866 - 1915
On November 28, 1866, at , Henry purchased an additional 40 acres of land from the State of Minnesota.  In 2006, over 145 years later, this land is owned by Henry's great-grandson Adrian V. Dahlheimer (son of Lawrence C. Dahlheimer, son of Frank Dahlheimer).  The current address is 16241 Diamond Lake Road North, Dayton, Minnesota, 55327-9588.
Following is a copy of the land sale record from the State of Minnesota to Henry:
<![if !vml]>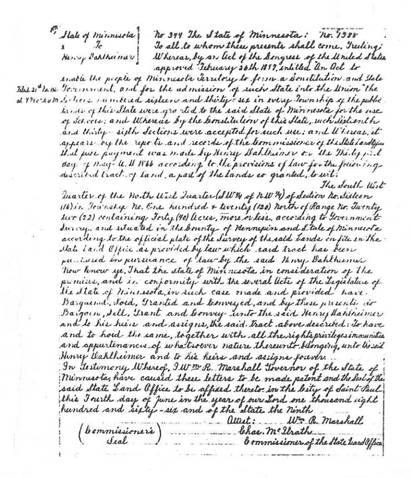 <![endif]>
Following is a translation of the above document:
State of Minnesota
          To
Henry Dahlheimer
No. 344. The State of Minnesota: Certificate No. 1388
To all to whom these presents shall come, Greeting:
Whereas, by an Act of the Congress of the United States approved February 26th 1857, entitled "An Act to enable the people of Minnesota Territory to form a Constitution and state Government, and for the admission of such State into the Union" the Sections numbered sixteen and thirty-six in every Township of the public lands of this State were granted to the said State of Minnesota for the use of Schools: and Whereas by the Constitution of this State, such sixteenth and thirty-sixth sections were accepted for such use: and Whereas, it  appears by the reports and records of the Commissioner of the State Land Office that full payment was made by Henry Dahlheimer on the Thirty first day of May A.D. 1866 according to the provisions of law for the following described tract of land, a part of the lands so granted, to wit:
The South West Quarter of the North West Quarter (SW¼ of NW¼) of Section No. Sixteen (16) in Township No. One hundred & twenty (120) North of Range No. Twenty two (22) containing Forty (40) Acres, more or less, according to Government Survey, and situated in the County of Hennepin and State of Minnesota according to the official plats of the Survey of the said Lands on file in the State Land Office, as provided by law which said tract has been purchased in pursuance of law by the said Henry Dahlheimer.
Now know ye, That the State of Minnesota in consideration of the premises, and in conformity with the several Acts of the Legislature of the State of Minnesota, in such case made and provided have Bargained, Sold, Granted and Conveyed, and by these presents to Bargain, Sell, Grant and Convey unto the said Henry Dahlheimer and to his heirs and assigns, the said tract above described: To have and to hold the same, together with all the rights, privileges, immunities and appurtenances of whatsoever nature thereunto belonging unto the said Henry Dahlheimer and to his heirs and assigns forever.
In Testimony Whereof, I, Wm. R. Marshall Governor of the State of Minnesota, have caused these letters to be made patent and the Seal of the said State Land Office to be affixed thereto in the City of Saint Paul this Fourth day of June in the year of our Lord one thousand eight hundred and sixty-six and of the State the Ninth.
                                                            Attest: Wm. R. Marshall
Commissioner's                                               Chas. McGrath
Seal                                                                 Commissioner of the State Land Office
Filed 28th November 1866; 9¼  o'ck A.M.
As described earlier in the section on Ohio, Philipp, Henry and Valentine's brother from Ohio, also bought land in Minnesota. On April 23, 1874, Philipp purchased 80 acres of land in Hassan Township, which he sold to Henry in 1875. In 1987, this land was owned by Walter Dehn.
Following is an 1874 map showing these original land purchases by Valentine, Henry, and Philipp Dahlheimer:
The 1870 Population Census lists Valentine and Henry's families as residents of Dayton Township, Hennepin II County, Minnesota.
Valentine's family consisted of Elizabeth (35), John (14), Henry (12), Valentine (10), Amelia (8) and Froney (7).

Henry's family included himself (45), his wife Maria (42), John (15), Henry (13), Mary (11), Joseph (9), George (7), Margaret (5), Barbara (3) and Frank (2).
Following is a copy of the 1870 US Federal Census for Minnesota:
<![if !vml]>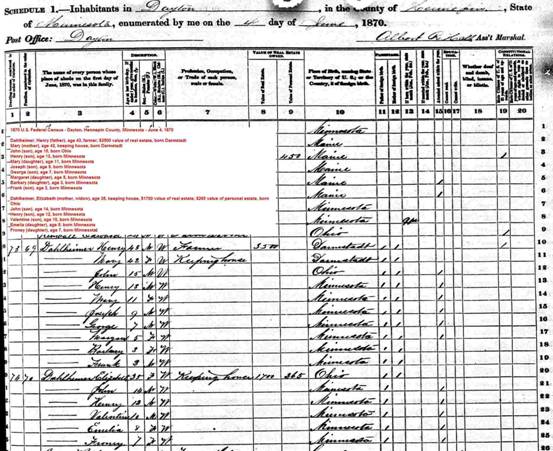 <![endif]>
The 1870 census also included an assessment of agricultural production for Henry and Elizabeth (Valentine's widow), as follows:
<![if !vml]>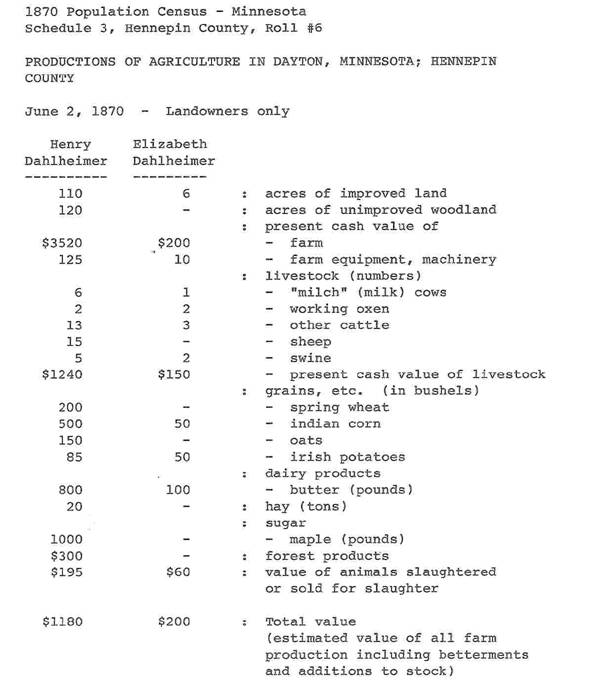 <![endif]>
Between 1866 and 1915, many land transactions occurred which involved Dahlheimers as either buyers or sellers.  This occurred in both Hennepin County as well as Anoka County.
Following are maps showing land ownership in 1860, 1874, 1879, 1882, 1890, and 1914.
<![if !vml]>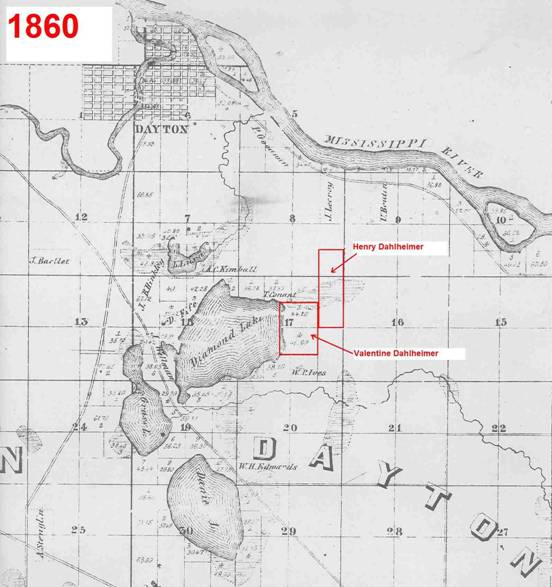 <![endif]>
<![if !vml]>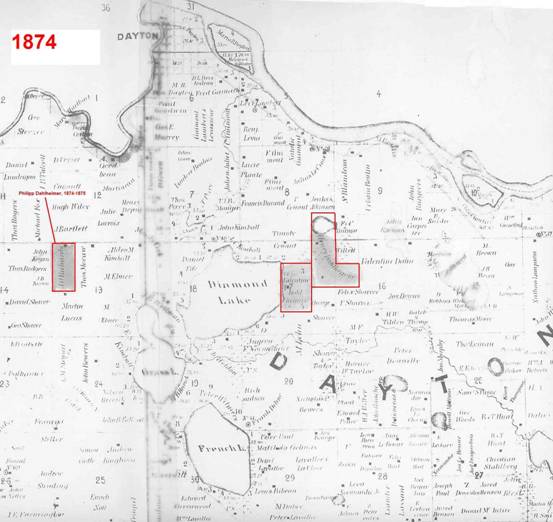 <![endif]>
<![if !vml]>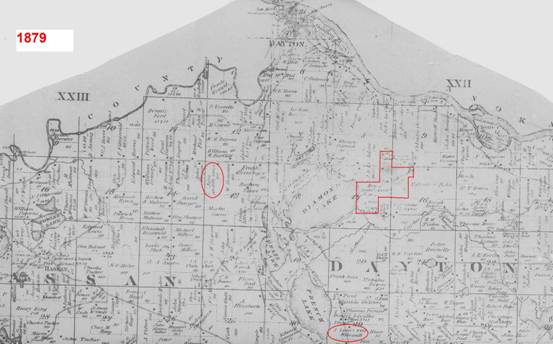 <![endif]>
<![if !vml]>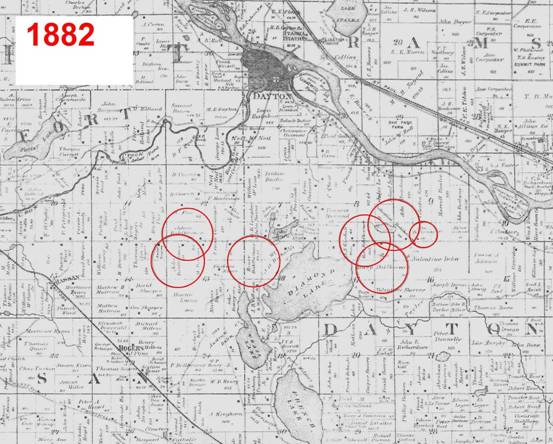 <![endif]>
<![if !vml]>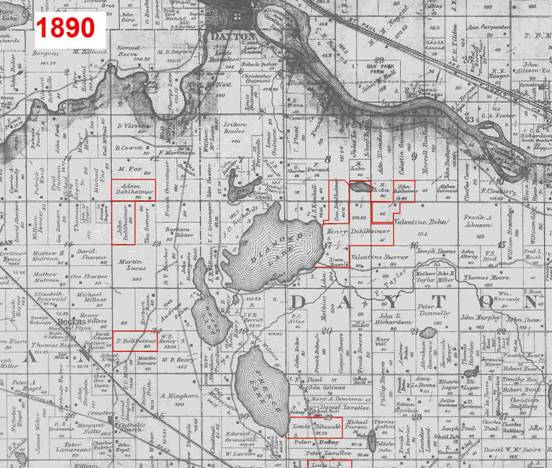 <![endif]>
<![if !vml]>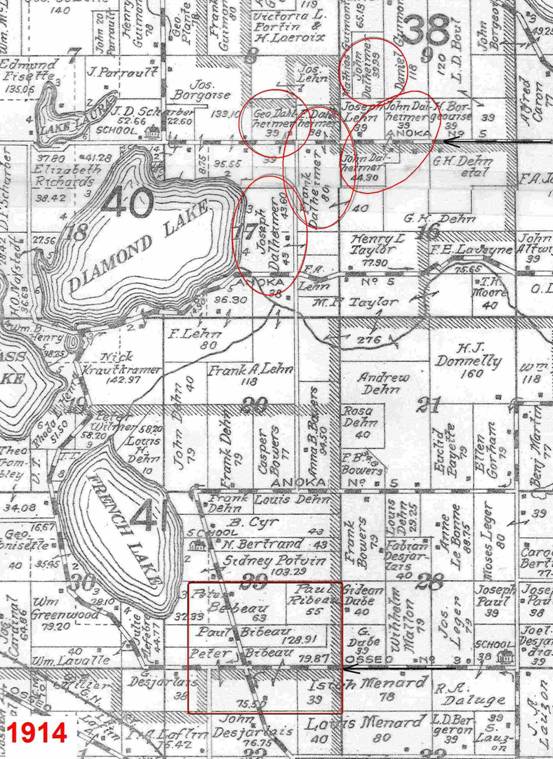 <![endif]>
<![if !vml]>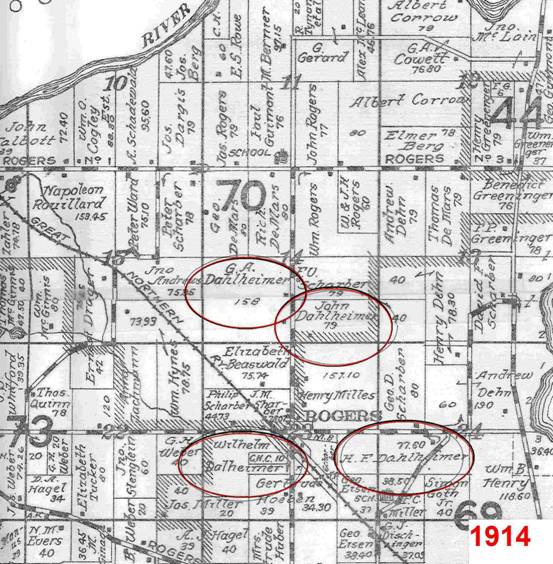 <![endif]>