Dedication of the Sign in Memory of the
"Dahlheimers of Minnesota", May 12, 2005
Return to Photo Page               Return to the Home Page
<![if !word & !ppt & !excel & !vml]>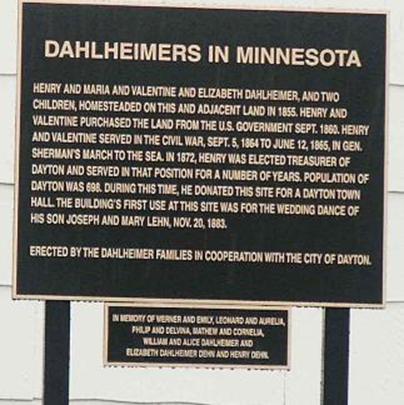 <![endif]>
Dayton marks early Dahlheimer family homestead, by Kathleen Ostroot
On Thursday, May 12, 2005, this marker for the "Dahlheimers in Minnesota" was placed at the 1855 homestead of Henry and Maria Dahlheimer, and Valentine and Elizabeth Dahlheimer and two children, commemorating 150 years at the site of the historic city hall on the corner of S. Diamond Lake Road and Zanzibar Avenue in Dayton.
The Dahlheimers have recorded their history into a book, edited and compiled by Jane Dahlheimer Heinrich. The book follows the family line back to 1750 in Germany to settling in America in Ohio and then the third chapter is titled "Minnesota." This chapter describes the time prior to and during the Civil War, their life as farmers, their struggle with Indian uprisings, and their involvement in the Civil War and subsequent years.
Henry and his family left Ohio for Minnesota in 1855. According to Vernon Dahlheimer of St. Cloud, his great-grandfather came to Minnesota because Henry disliked the flooding and "rainy" winters in Ohio. 
Henry, Mary and baby John travelled to what was then St. Anthony. They came with a little money, their clothing, a gold watch, a hoe and axe. Mary stayed with the baby in St. Anthony and worked in a hotel for their board. Henry travelled north on the Mississippi River to Dayton where he staked a claim, giving his watch as collateral, said Vernon. Henry built a near 16 by 14-foot lob cabin near Diamond Lake. Then, he walked back to St. Anthony to bring his wife and baby to the cabin. On their way back they bought a cow, their first livestock. 
According to Vernon, the Germans knew how to find good land. Normally, the best farmland was where the trees had the most space between the ground and the first limbs, regardless of the season.
Shortly after Henry and Mary had staked their claim, Henry's brother Valentine and three of their sisters, Margaretha, Elizabetha, and Apallonia, came to Minnesota, with his wife Elizabeth, and their children, Philipp and Barbara stayed behind in Ohio.
The area around Dayton was still primarily unsettled during the late 1850's. The Dahlheimer family and other settlers had to be wary of the Indians. In the Dahlheimer book it is written that in 1976, Leonard Dahlheimer told a story about a small band of Chippewa Indians who, in 1855, came down the Crow River to Dayton in 17 canoes. They passed through the area near Diamond Lake on their way south to Shakopee to fight the, Sioux, their enemy. Settlers near Dayton were afraid the Indians would attack. Instead, the Chippewa sold all except three of their canoes because they knew if they defeated the Sioux there would only be enough of the Chippewa left to fill three canoes, and if they lost they wouldn't even need the three. The Sioux Uprising caused panic among the white settlers and fear that other tribes would join the Sioux bands. At Dayton, people crowded onto a flat boat in such numbers that it could not be pushed off, which is a blessing, since it would have sunk had it reached deep water with such a load, Vernon recalls a story from his ancestors.
According to Vernon, on October 8, 1857, Valentine and Henry's families were recorded in the census as residents of Dayton Township, Hennepin in the territory of Minnesota. At this time the family included Valentine, age 30, his wife Elizabeth 28, and their two children, Philipp, age 3, born in Ohio and John, age 1, born in Minnesota. Henry's family included himself, age 28, his wife Mary age 26, and their children, John, age 3, born in Ohio, and Henry, age 1 born in Minnesota.
In 1864, Pres. Abraham Lincoln called for more volunteers during the Civil War. Both Henry and Valentine joined and were in General Sherman's march to Savannah, G.A. up to Washington, D.C. They celebrated the end of the war, said Vernon, and then they returned to Franklin, K.Y. and took the train to La Crosse, W.I., then a boat to Minneapolis and walked to Dayton.
Later in 1866, Henry purchased 120 acres of land from the U.S. Government. The family history book includes a document from the land office signed by President James Buchanan.
In 1872, Henry was the treasurer for the city of Dayton and served in this position for a number of years. At this time, Dayton Township had a population of 698. He donated the land where the historic city hall stands today. The building was moved to this site in 1883. It was first used for the wedding dance of Henry's son, Joseph and Mary Lehn. Today, Louis Dahlheimer, retired, owns the farm as a fourth generation of Dahlheimers in Dayton.
On Thursday, May 12, 2005, this marker for the "Dahlheimers in Minnesota" was placed at the 1855 homestead of Henry and Maria Dahlheimer, and Valentine and Elizabeth Dahlheimer and two children, commemorating 150 years at the site of the historic city hall on the corner of S. Diamond Lake Road and Zanzibar Avenue in Dayton.  Pictured below are relatives of the Dahlheimers from the original homestead families. From left to right is:
George Dahlheimer, from Elk River
Howard Dahlheimer, from Plymouth
Vern Dahlheimer, from St. Cloud
Corrine Dahlheimer, of Coon Rapids
Lillian Dehn Christian
<![if !word & !ppt & !excel & !vml]>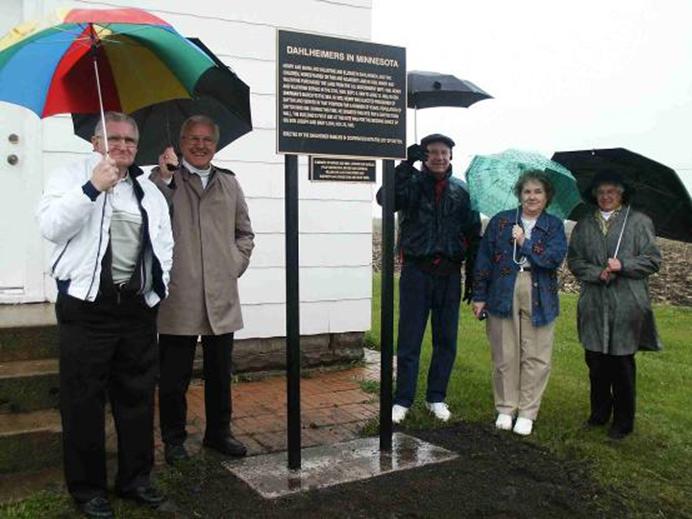 <![endif]>

<![if !vml]>