News articles:  February 2008
Catherine (Dahlheimer) Hagel, 113+ years—
*Oldest Minnesotan Ever*
**Fourth Oldest American**
***Seventh Oldest in the World***
Return to Photo Page               Return to the Home Page
Catherine (Dahlheimer) Hagel is the daughter of Mary (Scherber) and John Dahlheimer.  John was the son of Elizabeth (Starm) and Valentine Dahlheimer.
<![if !word & !ppt & !excel & !vml]>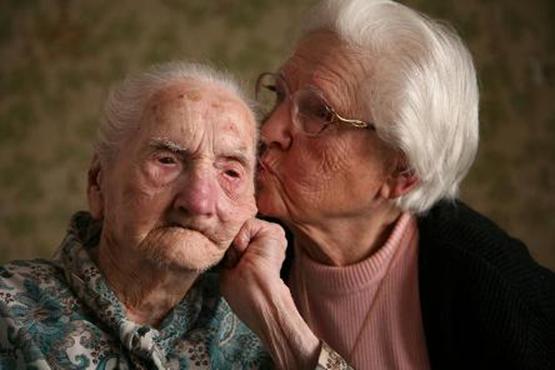 <![endif]>
Cecilia Gulezinski gave her mother, Catherine Hagel, a kiss. (by Jeff Wheeler, Star Tribune).  Cecilia Gulczinski, 89, Catherine Hagel's oldest daughter, visits her often at her New Hope nursing home. Hagel lived on her farm near Rogers until she was 100, said her daughter, and remained vigorous for years after. "Mom was really good up until she was 111," said Gulczinski "And she's still healthy enough — there's nothing really wrong. She's just getting a little old."
Happy 113 years, 73 days -- but who's counting?
By Warren Wolfe, Star Tribune, Source:  www.startribune.com, Monday, February 4, 2008
During her first 111 years, Catherine Hagel was a doer, a talker and a farm wife who taught her children, by example and expectation, the value of hard work, a positive attitude and an utter trust that God gets everything right. Now she lives in a quiet inner place, responding occasionally with a word or faint smile as a nursing home aide offers a gentle caress or her daughter speaks into her better left ear. Still, Hagel continues to break new ground. Today, at age 113 and 73 days, she enters the record books. Hagel is the longest-lived Minnesotan, according to the Gerontology Research Group, which documents and tracks "supercentenarians" -- people 110 and older.
This is the day Hagel surpassed the previous record set by her sister-in-law and good friend from childhood, Delvina Dahlheimer, who died at 113 and 72 days in 2002. She's also the fourth-oldest American and seventh-oldest person in the world -- the oldest being a woman in Kansas who is 114 and 295 days.
"Mom was really good up until she was 111," said daughter Cecelia Gulczinski, who at 89 is the oldest of nine surviving children. "And she's still healthy enough -- there's nothing really wrong. She's just getting a little old." Hagel is in a rare group -- perhaps 300 worldwide -- who have reached at least age 110, according to the New England Centenarian Study at Boston College. Like most very old people, Hagel never held much with doctoring, takes no medications and comes from a long-lived family. "I don't know, people in our family just tend to live long," Gulczinski said. "They say it's good genes, good lifestyle and good luck -- oh, and not taking life too seriously."
To aid in the search for clues to extremely long life, researchers at the Centenarian Study last year took blood samples from mother and daughter. "Maybe it's Mom's German blood," Gulczinski joked.
Until she was 100, Hagel stayed on the 40-acre farm near Rogers after her husband died in 1966, keeping up a huge garden, sewing, quilting and holding court with visiting relatives. "When Mom was about 80 we tried to get her to move after the house burned down, but she refused," her daughter said. "She camped out on a cot in the garage, then in an old trailer house till we rebuilt the farmhouse." Finally, increasing frailty and a painful case of untreated shingles drove Hagel to leave the farm and move to Northridge Care Center in New Hope.
She was born Catherine Dahlheimer on Nov. 28, 1894, on a farm near Dayton. That year Grover Cleveland was president, Coca-Cola was first bottled and the Great Hinckley Fire killed more than 400 people. She was confirmed by the legendary Archbishop John Ireland and at age 22 married neighbor John Hagel. As her daughter talked, her hand stroking her mother's arm, Hagel stared into the distance, her gaze shifting occasionally to Gulczinki. "Mom was always so active -- in church, in the community, with her family. They say that's important to a good life when you get old," Gulczinski said. "She used to tell such stories -- about the Indians living nearby when she grew up, seeing her first car, meeting Dad when he came over to help on the farm, about growing up one of 10 kids and then raising 11 of her own," Gulczinski said. "Now I have to speak for Mom."
Many researchers say that the lifespan of humans is about 125. The oldest confirmed person was Jeanne Calment, who died in France in 1999 at 122. "Why do some people live to be supercentenarians and others don't? We have some clues," said Dr. Thomas Perls, who started the New England Centenarian Study in 1994. Like Hagel, they have healthy hearts, lungs and circulatory systems, and they don't have problems with cancer or dementia. They're rarely ill and seem to deal well with stress.
"When something bad would happen, Mom always said, 'Well, it's in God's hands,'" Gulczinski said. Hagel comes from a long-lived family, evidence she got a genetic head start on the road to longevity. She takes no prescription medications that chronic health conditions might require. Another clue: Many old women had children in their mid- to late 30s; Hagel's last, her second set of identical twins, were born when she was 34.
"They can be rich or poor, urban or rural, vegetarian or meat-eater, but they're rarely obese," Perls said. Hagel was a scrawny 5 pounds at birth -- so slight her father doubted she would survive. She was always thin. Like mother like daughter? During her frequent visits with her mother, the still-vigorous Gulczinski thinks about her own longevity."I've probably got a few years left. But I don't know if I want to live as long as Mom," she said. "Mom's world is pretty small now. "Living to 113? I don't know. As long as I can get around, see people, go to church -- if I'm as good as Mom, I guess living to 110 would be OK."
 <![if !word & !ppt & !excel & !vml]>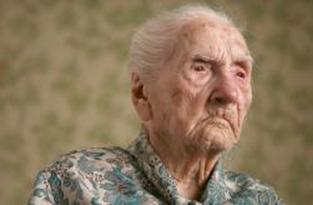 <![endif]><![if !word & !ppt & !excel & !vml]>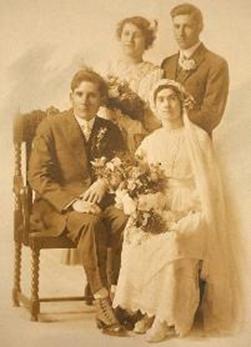 <![endif]>

Left: Catherine (Dahlheimer) Hagel, fourth oldest American, February 2008.  (Jeff Wheeler, Star Tribune)

Right: John and Catherine Hagel on their wedding day in 1916. (Jeff Wheeler, Star Tribune)

Coming of age; Dayton native to earn title of 'oldest Minnesotan ever'

by Mindy Mateuszczyk,  Champlain-Dayton Press—News, Sun Newspapers

www.pressnews.com/champlin-dayton_press/news/,  Wednesday, February 6, 2008

There must be something in the water. Come Feb. 9, the title of "oldest Minnesotan ever" will change hands, but will still belong to a Dayton native. This Saturday, the crown will be passed from Delvina Dahlheimer to her sister-in-law Catherine (Dahlheimer) Hagel.

Delvina passed away in March 2002 at 113 years old, 72 days. Catherine will come of age as she reaches a milestone 113 years, 73 days on Saturday. There's no definite answer as to why longevity has blessed this family, but nine of Catherine's 11 children are still living and relative John Dahlheimer, 92, is considered one of Dayton's oldest residents.

"We grew up poor and didn't eat," laughs Al Hagel with a joking rationale. Al, Catherine's son who still lives at the family's Hassan farmstead, has fond memories of growing up on the farm. Catherine had three girls and eight boys; the last four were two sets of twins. Catherine was a believer in the phrase, "don't go rooting around." In fact, she has only left Minnesota once in her 113 years, to visit a cousin in Wisconsin. To that end, Catherine put down her own roots not far from her Dayton childhood home when she married John Hagel from Hassan. Catherine met her future husband, John at age 16, when he was digging a hole for an outhouse. When she was 22, their union wove together the rich history of Dayton and Hassan. "Their families are some of the forefathers of our communities," said Lori Ende, Hassan board member and Hagel family neighbor. Catherine was a hard worker, a farmer's wife who made nearly everything from scratch. She was known for picking berries and canning and pickling hundreds of jars of fruits and vegetables a year. Having no electricity and running water for decades, she washed her family's clothes by hand until her first set of twins were born. She made her own soap, sewed her family's clothes and was an avid quilter. She spent all winter tearing rags. Her children would tie the rags together and she would use them to make rag quilts. "She would go all over and quilt," Al said. "She really liked socializing like that." Devout in her faith, the Hagel family attended St. Martin's - now Mary Queen of Peace - every week. Catherine's life has been full of hard work and old-fashioned Minnesota values. "I would see her out in her garden all the time," Ende recalls. Indeed, Catherine tended a plentiful garden of at least 1/2 acre until she was 100. At that time, she left her beloved farmstead in Hassan and moved into North Ridge Care Center in New Hope. While at the farm, situated along Territorial Road, Catherine and her family saw a lot of action over the years. Prior to Interstate 94 coming through town, the road running in front of the farm was the main route from Minneapolis to St. Cloud. The National Guard would travel through to Fort Ripley. Medicine shows were held down the street at Hassan Town Hall. Al remembers kids riding in a neighbor's sleigh to the one-room schoolhouse in the winter. He, on the other hand, got paid to go in early to start the stove to warm up the schoolhouse. Lots of visitors graced the Hagel home, both expected and unexpected." Dad was always bringing home bums and mom would always have something to feed them," Al recalled of the wayfarers that would hop off cars at the railroad station in Rogers and find their way into the Hagel household for a warm meal.

Catherine has seen her share of challenges too. She worked to maintain the family farm in 1918 when her husband fell ill during a flu pandemic. The Depression found them struggling to hold onto the family farm. At age 80, Catherine even saw her home burn down, only to be rebuilt again by son Al. Catherine attributes her deep religious faith for serving her through the ups and downs of it all.

Born Nov. 28, 1894, the day before Thanksgiving that year, Catherine's secret to longevity just might lie within her own spirit of thankfulness. She credits hard work for her long life and has said her life is a blessing. "She's tough as nails," said her son Al Hagel. "They don't make 'em like that anymore."

<![if !vml]>